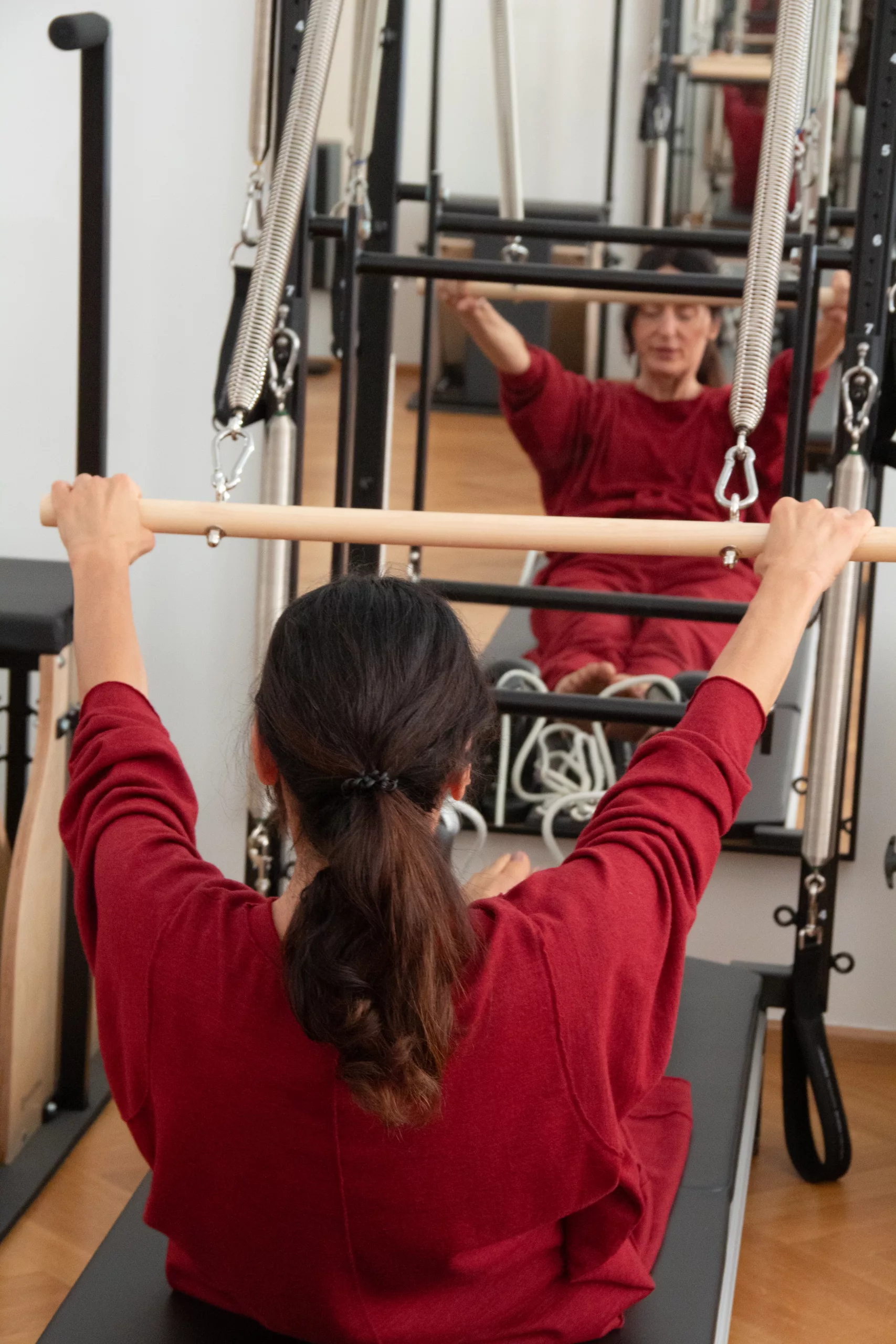 IRIS - GRAPHIC DESIGNER & PILATES TRAINER
We visited Iris from Munich in her advertising agency and her Pilates studio. The self-employed mother of two tells us how she combines the two professions.
Iris works as a graphic designer in her own advertising agency "AGENTEN UND FREUNDE" in Munich. There she designs games, books, catalogues and creates creative concepts for companies.
In the beautiful Schwabing district of Munich, she has her own Pilates studio. She and her colleague Julia showed us various exercises that are good for body and soul.
It is fascinating how Iris combines the two worlds in her everyday life. She tells us her story here:
What do you love about your job as a graphic designer the most?

IRIS: I love working with colours, imagery and typography, creating moods and finding subtle, unconscious nuances. I am fascinated about people and their stories - people who are passionate about what they do. The challenge of understanding different visions and ideas and implementing them pictorially is amazing for me. When the client is happy, so am I. It's important for us to give something back to society, that's why we work a lot with NGO* clients.
Is there a project that has particularly impressed you?
IRIS: Very emotional was the message from a leader of a social aid organisation for addiction support, with whom we have been working for a long time. When I asked him how many people he has been able to get out of addiction through his work, his answer was: "Even if it's only one person, it's been worth it for me." For him, he is the home for every single person who comes to the social organisation for refuge.
*NGO stands for "non-governmental organisation". The special thing about NGOs is that they are independent of governments or states and are primarily concerned with social issues,
human rights, humanitarian aid and the environment.
Sustainability in the advertising agency - how do you implement it?
IRIS: We attach great importance to environmentally friendly materials and resource-saving work. When selecting paper and colours, we pay attention to ecological compatibility. We only print what is necessary to avoid unnecessary consumption.
You started your own Pilates studio, how did that come up?

IRIS: I climbed a lot in the mountains in the past. I love concentration, exertion and movement in nature. That's the kind of sport I really enjoyed, and that's how I got into Pilates Reformer training. You concentrate intensely on conscious breathing and the precise execution of the individual exercises. This strengthens the muscles and the mind. It was a coincidence that I opened my own studio. I drove past the empty shop, called, presented my concept and get started.
What do Pilates and graphic design have in common?

IRIS: I love clean lines! Whether in graphics or in movement.
WHow are your two jobs divided?
IRIS: The weighting is fifty to fifty. It's definitely a balance for me and perfectly goes with my personal type.
How does Pilates affect body and mind?
IRIS: The cardiovascular system and muscle circulation are strengthened and the brain is better supplied with nutrients and oxygen. This improves concentration, for example. Pilates places high demands on coordination and movement sequences - a really effective way to improve mental performance through physical activity. A positive effect on all aspects of a persons well-being.
Sustainability can also be very small steps. Where do you focus in your Pilates studio?

IRIS: Less has always been more in Pilates. Clear ideas and small everyday actions can make a big difference. For example, we use cotton towels, our studio is covered with durable wooden flooring and we clean the studio with organic products.
In our re.fashion upcycling collection you will find great pieces for your pilates or yoga exercises. Iris also offers online classes on her website, so check it out! Onlinekurse auf ihrer Website an, schaut doch mal vorbei!