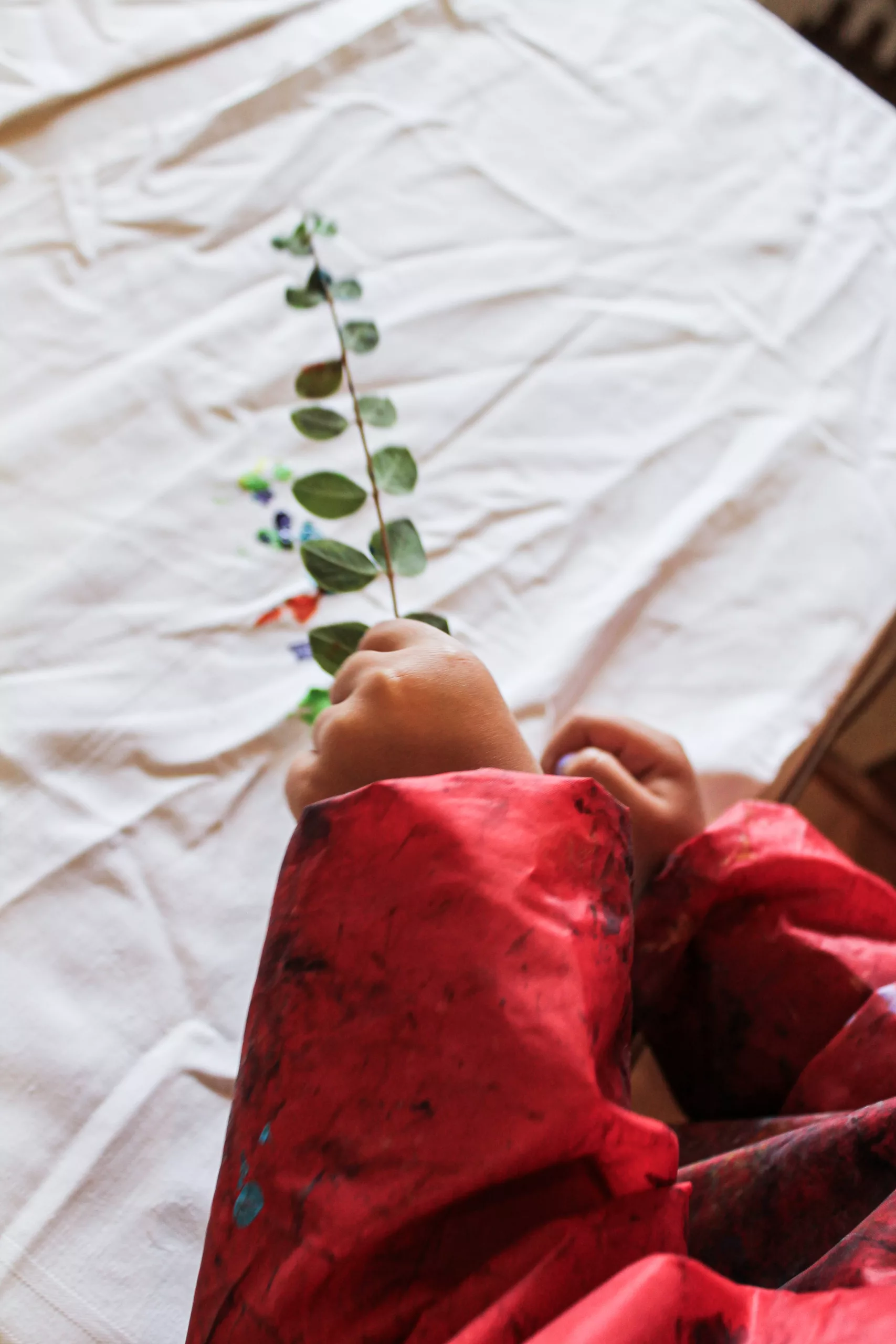 Angela & Vanessa – Educators from Mellendorf
Sustainability in the kindergarten: how children are taught to interact with nature in a conscious way.
Creativity and sustainability go hand in hand. The children engage in handicrafts using natural materials such as leaves, sticks, or chestnuts from the garden. Waste materials are also repurposed for creative projects. For instance, the children bring cardboard boxes from home, which are then utilized to construct or craft stalls. This approach helps the children understand that seemingly insignificant items hold value and can be repurposed.
In our upcycling project at the Protestant kindergarten in Mellendorf, the children collected various leaves from the garden. They then painted them and printed them on scrap materials. The children were even able to name the different tree species of the leaves.
The two educators are seen here in collection pieces from the re.fashion upcycling collection. Angela is wearing the Marrket dress in magenta and Vanessa the Myso dress in kimchi.
A conscious approach to nature and the environment is addressed at an early age in the Mellendorf kindergarten. A large outdoor area offers the children the opportunity to experience nature up close and discover something new again and again. In various projects, the little ones playfully learn about and appreciate the diversity of nature. The annual forest week, in which industrial toys are dispensed with, is particularly popular. Instead, the children build houses and dams out of sticks and branches and name different species of plants and animals. At picnics, too, attention is paid to waste avoidance. In the kindergarten, the children learn about the correct separation of waste through pictures on the rubbish bins.
The Protestant kindergarten in Mellendorf has its own kitchen. Here, the food is prepared with many seasonal products from the region. This is not something that can be taken for granted in this area, and the kindergarten teachers are happy that their children get a fresh and healthy lunch every day.
Of course, there are also challenges that make it difficult to find a sustainable approach in everyday kindergarten life. Especially during the Corona pandemic, measures had to be taken to counteract the conservation of resources. Food was only allowed to be served packaged, which was a setback in terms of waste avoidance.
Another challenge exists in the realm of creativity. Children are encouraged to explore a diverse array of materials to foster their creative abilities. However, this approach may result in increased material consumption. In response, educators work to enhance the children's awareness and impart values of appreciation and responsible handling.
To raise awareness among both children and parents regarding their waste generation, a project week is in the works. All the packaging accumulated during breakfast and coffee breaks will be gathered and suspended on a clothesline, creating a visual display for parents. This exercise will highlight the extent of waste produced in the kindergarten's daily routine, prompting discussions and collaborative efforts to explore solutions for more responsible resource management.